Update:
To all our loyal clients, Friends and Families, After dealing with several location moves due to unforeseen circumstances we are now back at work! We are glad that we are now able to continue service.
Due to our current location move, we are unable to order firearms, receive firearms, or transfer firearms. We are working hard at this process so we can once again continue to serve our clients. If there are any questions, please reach out to us.
Thank You
Kerberos Industries Team
Mountain House 
Fueling adventures for over 50 years
Mountain House Adventure Meals™ is the premier choice for backpackers and campers. Lightweight & portable, just add water and eat on the trail or in your tent.
As an authorized dealer, we carry both single packages or full cases. If there is something specific your looking for, feel free to contact us.
The QRB is for those who don't want to leave their AR/M4 rifle, SBR or pistol platform at home. The Patented Quick Release Barrel Kit for the AR-15/M4 platform allows your rifle, SBR, or pistol to be converted into a takedown system. As an example, a 16″ Barreled Carbine with an overall length of 33.5″ with an attached QRB Kit now becomes two 17.5″ pieces which easily fit into a small backpack. Not only do you now have the advantage of transporting your AR/M4 platform in a smaller more discrete package, you can also take advantage of over 20 different calibers through the same AR/M4 platform.
The CryHavoc QRB has successfully been used on 223/556, 7.62×39, 22 Rimfire, 9mm, 40 Caliber, 45 Caliber, 300 Blackout, Bushmaster 450, 458 SOCOM and 50AE configurations. Lets not leave out the AR15's big brother and little brother. Yes, im talking the AR10 and the AR9 platforms. QRB Kits for these platforms are also available!
Feel free to Contact US for further details 
QRB Kit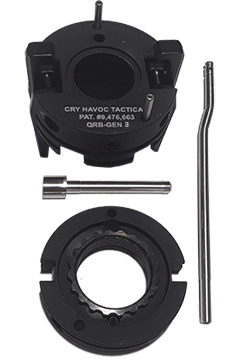 Barrel Adapter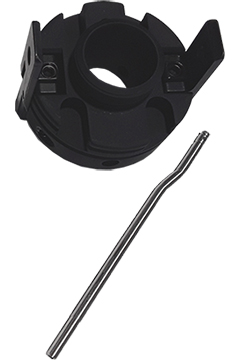 Receiver Adapter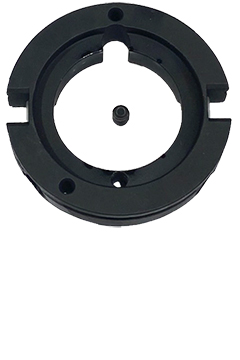 GAU-5 "Clone"
Want to build your very own GAU-5? Contact us to learn how!
What Makes us Different??
Medical Components & Kits:
A wide selection of Medical components such as Tourniquets, Hemostatic Gauze, Chest Seals, and Bandages; from our list of authorized manufacturers such as Tactical Medical Solutions, H&H Medical, Z-medica, and more. 
Firearms:
Choose from a wide selection of top firearm of all makes and models. Buy online and pick up at the store or have it shipped to your preferred FFL.
Ammunition:
We carry a wide selection of calibers and manufacturers both in single box and bulk case.
Parts & Accessories:
Need repair components or build kits? How about accessories like optics and triggers? We carry a wide variety of parts and accessories from leading manufacturers.
PowerFlare Safety Lights:
We are the only authorized PowerFlare dealer in Idaho
Tactical Medical Training:
Through our certified partners, we are able to offer courses such as NAEMT TCCC, Tactical First Responder, NAEMT B-Con, and many more. Contact us for further details.
Special Orders:
We also have the ability to custom order directly with select manufacturers and distributors. Contact Us for details.
E-GiftCard:
We have E-Gift Cards available in any denomination. Contact Us for details